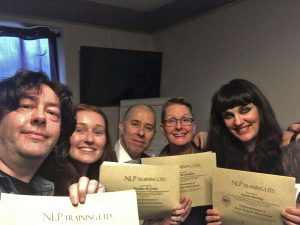 Last week I certified new Practitioners in NLP, NLP Coaching, Time Line Therapy® and Hypnosis, in an 8 day, intense but enjoyable course.
I'm very proud for the new Practitioners, they showed great determination and focus, diligence in absorbing the theories, performing the skills, and changing their lives positively.
They will be a real asset to the clients they have.
First 4-in-1 NLP Practitioner training in Merseyside
I believe in the highest-level quality of training for my students and clients, and that's because I had that level of support myself from the best teachers in the World. I strive for excellence in everything I do. I will encourage you to strive for excellence too.
As a student your preparation work includes reading at least two required books, listening to 20 hours of audio material, carefully studying the training manual, and taking a pre-study test, totaling around 80 hours of work. Of course I recommend further reading, and that the audio is listened to multiple times!
My own preparation work is just as thorough. For this course I reviewed the manuals from all my courses and the notes I made, reread the same required books as my students, and listened to the audio. I also watched a further 30 hours of DVDs. I then took the approximately 200,000 words of transcribed audio and turned it into '4-mat' – the teaching approach created by Bernice McCarthy. It is favoured by educational establishments Worldwide, to provide a superior learning experience for my students, as it addresses the four different learning types. I then then distilled all this into a day-by-day, segment-by-segment delivery format. The whole process took months of consistent daily work.
Eight days a week!
The eight days gave the students a total of 72 live training hours. There was another 7 hours of personal practice time, and around 14 hours of homework, giving them a total training of 148 hours. This is over the 139 minimum requirements for certification with the three bodies – the American Board of NLP, The American Board of Hypnotherapy and the Time Line Therapy® Association.
I prefer to teach in small, intimate groups. This is so I get to know you extremely well during the week, can monitor your learning thoroughly, and assist you in accelerating your personal development in a way that would simply not be possible in larger groups. And that's just the beginning, as I offer a lifetime commitment towards your further development, with ongoing support.